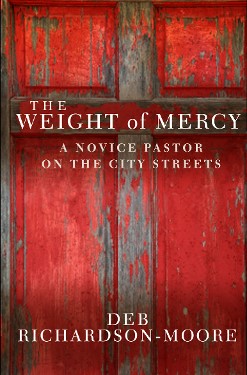 The Triune Story
---
Triune Mercy Center is a non-denominational church in Greenville, SC that ministers alongside those in need. Our mission is to share Christ's love by meeting physical needs and providing life-changing opportunities for the disadvantaged.

As a church, Triune offers worship and fellowship opportunities that build meaningful relationships with our neighbors. We gather regularly as a community to worship and serve in Christ's name.

As a mission, Triune provides emergency relief in the form of meals and access to resources such as medical and legal aid, addiction and mental health counseling, and an array of social services.

We offer a radical welcome to anyone who passes through our doors. Our committed staff, volunteers, congregation, and community partners help to address the physical and emotional needs facing those experiencing poverty with love, compassion, and hope.

Come share Christ's love with us.
---
Former Triune pastor Deb Richardson-Moore, authored a memoir, The Weight of Mercy, about her early years ministering there. It shares the story of Triune's transition from relief work to a mission of welcoming and empowering Greenville's disadvantaged community. Published by Lion Hudson in Oxford, England, The Weight of Mercy is available at local bookstores and online.
Here's what Greenville singer/songwriter Edwin McCain said about the book: "I started your book as we lifted off the runway in Atlanta on my way to Japan. I cried twice by the time I reached South Dakota and finished the book as we flew over Alaska. I am in awe of your work at Triune and I just wanted you to know how much your book impacted me."
See Deb's website at www.debrichardsonmoore.com for more information on ordering.