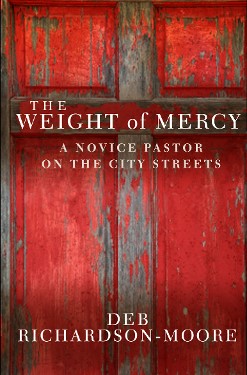 The Triune Story
---
The Weight of Mercy is a memoir that tells of Deb Richardson-Moore's early years at the Triune Mercy Center, years in which we moved from relief work to welcoming and empowering Greenville's homeless community. Published by Lion Hudson in Oxford, England, The Weight of Mercy is available at local bookstores and online.
Here's what Greenville singer/songwriter Edwin McCain said about the book: "I started your book as we lifted off the runway in Atlanta on my way to Japan. I cried twice by the time I reached South Dakota and finished the book as we flew over Alaska. I am in awe of your work at Triune and I just wanted you to know how much your book impacted me."
See Deb's website at www.debrichardsonmoore.com for more information on ordering.
Triune Mercy Center
---
Located on a busy corner west of downtown Greenville, the non-denominational Triune Mercy Center is uniquely situated to minister to the displaced – primarily through welcome into a worshiping community.

Everything we do flows out of our gospel witness and encourages Greenville's homeless and affluent to come together – in worship, Bible study, art, improvisational theater, music, gardening, volunteerism and various forms of assistance.

With the support of our compassion partners, Triune serves four hot meals a week. We have a Wednesday morning food pantry, and weekend laundry service. More importantly, we provide transformational support for those needing drug rehabilitation, employment, mental health counseling, medical treatment, legal aid and housing.