Pastors' Page
Deb Richardson-Moore has been Senior Pastor of Triune Mercy Center since 2005. A graduate of Wake Forest University and Erskine Theological Seminary, she was ordained by First Baptist Church of Greenville. Before coming to the ministry, she was a reporter for The Greenville News. Deb is married to Vince Moore, and they are the parents of three grown children.
---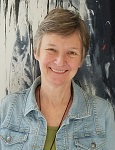 Tandy Gilliland Taylor, Associate Pastor at Triune Mercy Center, is a graduate of Davidson College and Princeton Theological Seminary. Over the past 30 years, she has served Presbyterian congregations in Atlanta, rural Virginia, and the Greenville area, including Eastminster in Simpsonville, which she and her husband David started together as co-pastors. They have two adult children.
Message from Our Pastor
When people visit Triune for the first time and see the diversity in race, income, age and mental capability, they inevitably tell us, "This is what the kingdom of God must look like." Add in some musical diversity – from classical to gospel to rock to the grand old church hymns, and we hope there's something for everyone. We'd love to have you come and see for yourself.
Blessings,
Deb